5 Ways to Backup Your WordPress Site Easily 2017
In 2017, it's more important than ever to backup your WordPress site constantly. If you don't, you might lose all your hard work on your website when it inevitably gets hacked. Don't think that "my website will never get hacked", because one day it very well might, especially if it suddenly explodes in popularity (goes viral, on reddit front page, etc.). WordPress itself is especially vulnerable to hacking as it is a very popular CMS and has many security loopholes. If you're worried about getting hacked, you can check out this article:
3 Tips to Secure your WordPress Site in 2017
Even if you don't get hacked, there's also a case that you could accidentally break the website. Once, I accidentally deleted several key databases to my WordPress website, causing it to go down. These accidents just make it ever more important to have proper backup systems in place. It's never too late to start backing up your site!
Without further ado, here are the 5 best ways to backup your WordPress site:
This is one of the best options possible, and the one I use on my personal blog. It's completely free, and very easy to setup. It's quite stable, as it backs up your entire site (along with the database) to Dropbox. The free tier on Dropbox is more than enough, and once this is setup you barely have to touch it again. You simply link your Dropbox account to the plugin (the plugin does not receive your credentials, the process is fully encrypted), and you can restore the whole site from Dropbox if you ever lose the site or make a critical change to it that you can't fix.
Here's an article I did for SitePoint about setting this plugin up completely.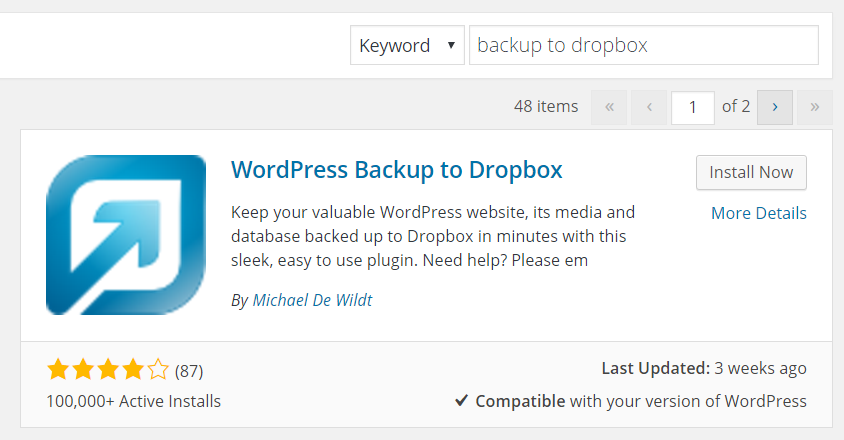 2. VaultPress (Paid)
This is one of the most powerful WordPress backup plugins, developed by WordPress.com (Automattic) themselves. If you own a large site and you absolutely cannot lose your data, you should give VaultPress a try. VaultPress has a huge range of features. It helps protect your site against hackers with built-in security options, includes DDOS protection, protection from spam comments, and more. You can also restore any backup easily with 1-click, and the backup is automatically restored to your website. The downside, of course, is that it is paid: $39/year for the personal plan and $99/year for the business plan.
3. UpdraftPlus (Free & Paid)
With users ranging from the NBA to Microsoft, UpdraftPlus is one of the most popular WordPress backup plugins. You can automatically send your backups to multiple cloud storage platforms such as Google Drive, and there are lots of features for power users as well. If you upgrade to the premium version, you get extra features such as migrating between platforms.
4. BackupBuddy (Paid)
Another excellent option, BackupBuddy is similar to UpdraftPlus in features. It boasts half a million downloads, and is created by iThemes, which also owns iThemes Security Pro.
This is one of the most powerful options on this list, even its free version. However, it's meant for people who know what they're doing and understand more technical terms. It's most famous feature is actually duplicating/migrating sites instead of backups, and it only offers manual backups in its free version. Its paid version can be very useful for power users though, and allows for scheduled backups.
And that's it for today – leave a comment down below with what plugin YOU use for your WordPress sites!